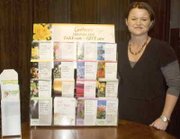 Watching people grieve has compelled Sunnyside's Smith Funeral Home to expand grief support.
"It's hard to stop thinking about (grieving people), because you know they're living a daily struggle with it," said Heather Smith-Bowen.
A couple of weeks ago, Smith-Bowen created a small display of blank, but colorful, stationery. The purpose is for individuals, especially children, to write a final message that can be left in the casket with their loved one.
"It's a connection, a last good-bye, a last thought, a shared memory," she said. "It's kind of a release of emotions." And, she added, "You know it's with that person forever.
"Sometimes it's easier to write feelings than to express them in other ways."
Smith-Bowen said that she realized that while she was reading final messages on the funeral home's website. How the website works is that a person can log-on and sign the cyber guest book or share thoughts with the family of the deceased person. On more than one occasion, Smith-Bowen has been moved by the messages.
Smith-Bowen hasn't limited the grief support to the stationery. Just this week, a grief information center arrived.
The grief center is a large display of booklets that address a myriad of topics, like "Working Through Serious Illness", "Easing the Burden of Stress", "Facing Cancer as Family", and even a booklet for youngsters titled "Sad Isn't Bad When Someone You Love Dies."
Watching children grieve has been an impetus for Smith-Bowen to expand grief support. "Seeing a child not know how to deal with (loss) and seeing a parent not know what to say to a child is very difficult," she said.
She said the good thing about the booklets is they address topics before and after individuals lose a loved one.
The grief center is located in an office upstairs and Smith-Bowen said that the goal is to provide families time to peruse the titles privately. That way, said Smith-Bowen, if a person sees a title that fits them or someone they know, "They'll have enough privacy to just take one."
She said that those who don't avail themselves to the booklets right away are more than welcome to do so down the road.
Smith-Bowen said she'd also like to find ways to support teens through times of grief.
"I don't see anything that hits that age group. It kind of goes from young to old and misses that in between," she said.