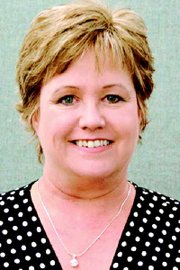 Sunnyside City Councilwoman Theresa Hancock was recently appointed to serve on the Washington State Jail Industries Board.
Hancock was appointed to the board by the Association of Washington Cities (AWC) to represent the organization. She replaces former Oak Harbor City Councilwoman Sue Karahalios.
Hancock has served on the Sunnyside City Council since 2005. Prior to the city council, she served on the Sunnyside Planning Commission, working on various annexations and the update of the comprehensive plan.
Hancock is currently serving as Sunnyside's alternate representative to the Yakima Valley Conference of Governments, and chairs the city's Lodging Tax Advisory Committee.
The recent appointment brings the jail board to full staffing during a time of growth in support for re-entry-focused programs.
Hancock says the board assists counties and cities with developing programs, including areas such as working with victims and the business community.
As the AWC's representative, Hancock said her role on the board will be to make sure that what the Jail Industries Board does fits with the needs of municipalities.
"It's an opportunity for Sunnyside to be involved and to make sure that local governments are involved in the things that affect them," Hancock said.
For more information about the Jail Industries Board, visit www.jib.wa.gov
More like this story