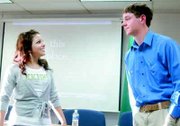 Continuing alcohol and drug awareness education beyond the freshman year of high school and imposing community service requirements on students found with alcohol were some of the suggestions made last night to curb underage drinking.
The ideas were part of a nearly two-hour town hall meeting Monday night at the Denny Blaine board room led by students from Sunnyside High School's leadership class with support from Sunnyside's Promise.
The need to address underage drinking in Sunnyside and other Lower Valley communities was highlighted by a Sunnyside High School survey from 2006 that showed a third of the 182 high school seniors surveyed reported binge drinking. Twenty percent of the seniors surveyed also reported being drunk at high school.
The prevalence of alcohol has many causes, the seven-student panel reported last night. Sunnyside junior Ashley Bridges noted that drinking has become seen as a social norm for high school students. Classmate Samantha Pearson added that alcohol can be easy for students to obtain, noting that parents are sometimes the most common source of alcohol. Another panel member, Jasper Rubalcava, said freshman students are lured into drinking when they see upper classmen drinking at parties.
Panel member Tristan Abbott pointed to a recent example of the effects of alcohol on students and community. He said that four or five Sunnyside High School basketball players were suspended for part of the season this past winter for being at a party where alcohol was present. He said the situation had a continuing impact on the team, as students would not tell coaches if other students were using.
Monday's meeting, though, was more than talking about the problem, but to face it and find solutions. Sunnyside High School students said parents should set firm ground rules and keep the lines of communication open.
Bridges said if alcohol is present in the home, then parents should start talking to their children as early as the fifth grade. "It will help them out when they get to middle school," she said.
To that end, Sunnyside High School leadership students have been mentoring fifth graders. Panel member Molly Dolan recounted that two of the fifth graders she has worked with were taken away from their parents because of drug and alcohol use.
Leadership students last night said they should probably spend more time with fifth grade students, as well as the freshmen they mentor.
One suggestion raised during the meeting was something along the lines of the national Smoke Out day, which over the past 30 years has changed smoking from a socially acceptable, even popular practice to one that is now disdained. The idea of something like a national drink out day would be to change perspectives of drinking.
Sunnyside Police Chief Ed Radder suggested partnering with both local and Yakima-area businesses to create a discount card for students who pledge not to consume alcohol or illegal drugs. The incentive card is taken from the student, Radder added, if he or she is found with alcohol or drugs.
Other suggestions included visible reminders to students and parents of the dangers, as well as the social and financial costs, of drinking's consequences.
Members of the student panel said they don't see the town hall meeting as a one time effort, inviting the audience-which included city, school and legislative representatives-to join them in future meetings targeted at solutions for underage drinking.
Sunnyside School Board member Steve Carpenter commented last night that overcoming underage drinking is a long term project. "Problems like this don't develop overnight," he said. "You have (our) support. It will take a long, sustained effort."