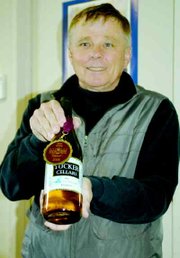 LACEY - With its flavors of pear, pineapple and spices, Tucker Cellars newly released 2007 Viognier took top honors at the 2008 Capital Wine and Food Festival event in Lacey late last month.
The wine took the Best of Show award in the white wine category, as well as a gold medal.
"The palate is rewarded with exploding tropical and citrus flavors, creating a smooth finish," said Randy Tucker, owner of Sunnyside's Tucker Cellars. "Residual sweetness is off-dry at one percent, with a hint of oak aging and lots of fruit."
Tucker said that most blended wines are made separately then blended together prior to bottling. Not so at Tucker Cellars, where they blend the grapes at harvest. "This creates a more balanced wine at bottling," Tucker explained.
The wine and food event in Lacey was held in late March and featured 39 wineries, as well as micro-breweries and food vendors.
Tucker Cellars' Muscat Canelli also took the bronze medal in the white wines category.