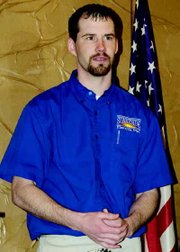 Sunnyside City Planner Jamey Ayling was the Wednesday morning guest speaker at Sunnyside's Daybreak Rotary Club meeting.
He said the city is currently in the planning process of the Sunnyside Airport.
"Where do we go with the airport?" Ayling said is the leading question involving plans the city is working on.
He said a planning committee is being put together and community involvement is encouraged by city leaders.
"We don't want the plan coming just from me," said Ayling.
He explained that Sunnyside continues to grow and leaders want to focus on downtown revitalization plans following the airport plans.
According to Ayling, the city has grown to realize that current ordinances are not friendly toward downtown businesses.
He said there are plans to "revamp" current codes in hopes of addressing concerns regarding the businesses and homes located downtown.
Ayling also noted that the city is looking at pursuing revitalization grants to help with efforts in Sunnyside's downtown corridor.
"It doesn't make sense to have a cavity in the middle of everything," he commented.
He said the city of Sunnyside is also working on the annexation of property at Alexander Road and SR-241. The property aligns with the Port of Sunnyside and Ayling said the plans for the property include a business park.
Another business park is planned for the former Monson feedlot property. Ayling said Sunnyside leaders have been working on grading and leveling the property, hoped to be named West Sunnyside Business Park.
He said the city has punched a well for water and will be able to use it in addition to other city wells.
"We have plans to add sewer services to the property, too," Ayling stated.
He said that the city has had more subdivisions of property to-date than in 2007.
With the subdivisions, the city has hopes to see more development.
He said one area of success is the Van de Graaf property on East Lincoln Avenue, which currently has a new building for Columbia River Bank under construction.
"We are trying to provide more tools for developers...trying to be more available and involved to help with the development process," Ayling said of the planning department.
He told the Rotarians the department recognizes the needs of the community and is working to meet those needs.