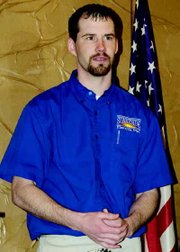 GRANDVIEW - Grandview's outdated and cracked swimming pool was the topic of discussion at a public outreach meeting held by the Grandview City Council last night.
Discussed was what to do with the aging pool that was built in 1955.
"The facility is old and in disrepair," Grandview Mayor Norm Childress said. "Something needs to be done about it."
He recommended starting a grassroots level movement to get the public on board to try to spruce up the pool.
Two levies have been voted down that would have paid for a new aquatics center in Grandview so city officials are scaling down the plans for the pool to include just a new tank and some amenities.
The mayor said the city is committed to supporting the pool to a certain extent but will need the public's help.
"We need to look at the bigger picture," he said. "What would Grandview be like without a pool? There are a lot of kids in Grandview and it's dang hot here in the summer."
Of the 20 or so people who attended the meeting a select group of people were formed to go out into the community to get a feel for what the public wants and how much they want.
Councilman Joan Souders said she heard a group of kids saying they wanted someplace to sit while at the pool.
Another big item in demand at the pool is a slide for the children to enjoy themselves. Concession stands are also wanted.
A zero-depth children's pool is also on the wish list for the Grandview pool.
The city spent $11,000 a couple of years ago to fill in some of the cracks in the pool and Grandview Recreation Director Mike Carpenter said the pool only has a couple of years left before it will have to be renovated or replaced.
The pool committee will meet again sometime next month to report back to city officials on any progress made.