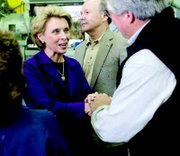 It wasn't just the hope of four more years that brought Gov. Christine Gregoire to Sunnyside yesterday, part of a day-long campaign junket stretching from Yakima to the Tri-Cities.
Gregoire was here Tuesday to make good on a pledge she made three years ago to Sunnyside-area canola farmer Ted Durfey.
Speaking by phone while on the road to the Tri-Cities, Gregoire said she and Durfey testified before the state legislature in 2005 on behalf of biodiesel funding.
"I was trying to convince the legislature to give some loan money, a minimum mandatory amount for biodiesel," she explained. She said Durfey's work with Natural Selection Foods in converting canola oil into biodiesel is a "model for how we should do biodiesel in Washington."
Gregoire told the Daily Sun News she promised Durfey a visit to his Emerald Road farm once he got up and running with the canola-to-biodiesel operation. "I wanted to see if it met our expectations," she said of yesterday's visit. "It was better than we had hoped."
Gregoire announced her candidacy for re-election earlier this week. She said her term as governor has seen the state turn back high unemployment rates, crime and transportation problems.
"You can't do all you want in four years," she continued, noting her priorities in a second term would be economic development, health care and education reform.
Gregoire said she timed her re-election bid for after the state's legislative session.
"I thought it was important through the legislative session not be involved with a campaign," the governor said. "I just finished bill signing last week, then turned my attention to the campaign."
One of those bills was anti-gang legislation co-sponsored by Rep. Dan Newhouse of Sunnyside, which Gregoire signed despite last-minute opposition because prevention language was removed.
"I think we absolutely need to have some new tools when it comes to dealing with gangs across the state," she said. Gregoire said she only signed the bill after receiving assurances from law enforcement that grants would only be distributed to cities willing to invest in gang intervention and prevention.
In other legislation of interest to Sunnyside, Gregoire said the state approved a bond bill to expand funding for skills centers, like the one the Sunnyside School District is establishing.
"We know that skills centers are the way that some of these kids are avoiding dropping out of school," Gregoire said. "I hope Sunnyside gets in there and applies."