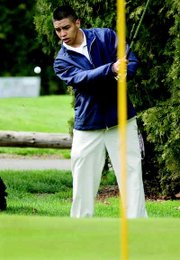 Grandview sophomore Josh Jardine crossed a major threshold yesterday, in the world of boys prep golf, shooting his first ever sub-90 round.
Competing at a CWAC three-school match at Sunnyside's Black Rock Creek Golf Course against Ellensburg and East Valley, Jardine skated around the front side with a 9-over 45. The sophomore sliced a stroke off that score after the turn, carding a 44 on the back nine to hit the clubhouse with a 17-over-par 89.
"It was his best round ever," said Grandview Coach Dave Uggetti. "And he did it even though he had trouble with his putting."
Actually, all of the golfers had trouble yesterday with Black Rock Creek's greens. That's because they were sanded last week, and there's nary a true roll on any of them at the current time.
The Greyhounds, besides getting a personal best from Jardine Tuesday afternoon, set another milestone. Yesterday was the first time this season the Greyhound linksters recorded a team score lower than 400.
"Getting our score down to 400 was definitely one of our goals this season," Uggetti said.
The 'Hounds ended up with a 398, but could have gone even lower had Jade Parker shot to his capabilities. Parker finished with a 118 (56-62), but according to Uggetti the teen is talented enough to score regularly in the 90's.
"If we cut another 20 strokes off our team score we can beat half the teams in our league," said Uggetti.
"We're moving in the right direction," he added.
Second in for the 'Hounds yesterday was Kyle Womach. He carded a 94 on front and back nines of 48-46.
Sophomore Ryan Contreras, a first-year golfer, perhaps showed the most improvement yesterday. Previously, his best score in a competitive setting was a 113. Yesterday, the Grandview underclassman nailed down an impressive 97 (50-47).
East Valley, led by Tyler Jensen and Alex Akien with an 84 and 85, respectively, claimed top team honors Tuesday by shooting an aggregate 348.
Ellensburg, behind medalist Zach Heaton's 6-over-par 78, scored a 356.
Grandview's girls golf team was also in action yesterday, competing at a CWAC match at Ellensburg. The Lady 'Hounds didn't have a full four-girl squad available, thus took an incomplete in the team scoring. The two other teams competing, Othello and Ellensburg, tied with team scores of 387.
Individually, Grandview's Hannah Ziegler carded a 148 and first-year golfer Ivette Frias shot a 154, a season low.
Both, Grandview's boys and girls squads are scheduled to compete this coming Thursday at the Central Washington Invitational at Yakima's Apple Tree Golf Course.