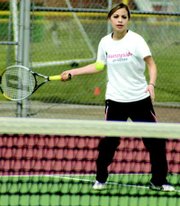 The Sunnyside High School boys and girls tennis teams lost 7-0 non-league matches to the Richland Bombers yesterday.
Sunnyside Coach Troy Whittle said it is difficult to keep morale high in a rebuilding year such as this.
"Match after match we play such consistently strong tennis teams," he stated, saying Richland was another strong 4A opponent.
But, he said he feels the Sunnyside players are gaining valuable experience, seeing where they need to be on the court.
Sunnyside No. 1 boys singles player Matt Johnson, No. 2 singles player Jorge Pacheco and No. 4 singles player Anthony Kim each lost 6-0 in straight sets against their Richland opponents.
Grizzly No. 3 boys singles player Jay Kim fared better in a 6-2, 6-1 loss to David Smith of the Bombers.
In boys doubles action, Sunnyside No. 1 duo Jonas Linde and Anthony Rodriguez lost 6-0, 6-0 to Richland's Stefan Dernbach and John Talbot.
John Sampson and Liem Dinh of Richland outmatched Sunnyside No. 2 boys doubles players Mike Martin and Joey Zijlstra 6-0, 6-2.
Grizzlies No. 3 doubles players Anthony Aguilar and Daniel Wavrin lost 6-0 in straight sets to the Bombers' Brian Chou and Simean Yang.
The Sunnyside girls didn't fare much better than the boys team.
Lady Grizzly No. 1 singles player Regina Mendez lost 6-0, 6-1 to Janell Talbot of Richland, No. 2 singles player Madonna Gonzalez was defeated 6-2, 6-1 by Bomber Lindsey Henderson, Laura Sampson of Richland handed Sunnyside No. 3 singles player Jamie Zijlstra a 6-0, 6-0 defeat and Sunnyside No. 4 singles player Christine Kim lost by identical 6-1 scores to Richland's Sarah Vukelich.
"The girls continue to struggle to win matches, but remain competitive," said Whittle, stating that the team was missing two players yesterday.
He said he felt No. 2 girls doubles players Sasha Castro and Hannah Marro played well and could have won their match. However, the pair lost 6-4, 7-6 (8-6) to Bombers Chelsea Hutchinson and Jackie Calipristi.
"This team is getting great competitive experience this year and should be strong next year," commented Whittle.
Sunnyside No. 1 girls doubles players Cristal Sandoval and Cindy Gudino lost 6-2, 6-1 to Laurel Thompson and MiKayla Kusuda.
Another hard-fought loss at the hands of Richland was in girls No. 3 doubles action. Avalon Valencia and Daniela Ramos of Sunnyside lost 7-6 (7-5), 6-0 to Becky Fadeff and Laurel Adami of Richland.
Sunnyside will play at Kennewick on Saturday, April 19.