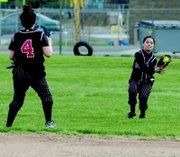 It's hard to win a game with errors and walks but it's darn near impossible to win if a team can't get a hit.
Wenatchee's Raquel Breckenridge did just that to the Sunnyside High School softball team yesterday in the second game of a non-league doubleheader.
"Our girls were chasing some pretty high balls," Sunnyside Coach Ralph Mendoza said. "They weren't very disciplined."
Mendoza said this is the first time his team has been shut out like yesterday, with not even a walk to show for.
Breckenridge induced nine ground balls, three fly balls and fanned three batters as she faced and mowed down 15 straight Grizzly batters.
"Their defense didn't make any errors," Mendoza added. "She (Breckenridge) had good control and placement."
Leslie Schilperoort started on the mound for Sunnyside and pitched all five innings. For the most part, Mendoza said he was pleased with the freshman's performance.
"She did well in the middle innings," he pointed out.
Schilperoort shut out the Panthers in the second inning and only gave up one run in the third and two in the fourth.
However, she walked seven batters and the defense committed nine errors in the game.
Three walks and three errors in the first inning allowed Wenatchee to get four runs, and four walks and two errors allowed seven Panther runs to cross the plate in the fifth inning as Wenatchee beat Sunnyside 14-0.
The opening game of yesterday's doubleheader wasn't any kinder to the Lady Grizzlies as Wenatchee spread runs around four innings to come away with an 11-0 victory.
Erica Sabedra pitched for Sunnyside and in five innings of work she gave up 13 hits and walked six batters.
The second and third innings were where the Panthers put the game away. Two walks in the second, compounded with some key hits by the Panthers and some critical mistakes by the Grizzlies resulted in three runs scoring.
In the third Wenatchee scored five runs off several hits and again a crucial error by the Grizzlies.
"We were getting the stops but we were making the wrong decisions on where to throw the ball," Mendoza explained. "We were making a lot of mental errors."
Kassie Luther got Sunnyside's lone hit on the day in the first game. She connected for a single to go 1-for-2 in the game.
Sunnyside (0-4, 0-9) will travel to West Valley next Monday, April 14, to make up a March 28 doubleheader postponed due to snow.
"We're going to be going back to the basics," Mendoza said. "Fielding, throwing, catching and hitting. We need repetition."