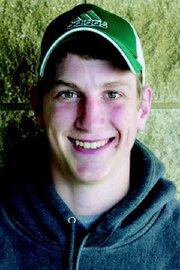 Having already made his decision to attend Dordt College in the fall, Sunnyside Christian High School's Michael De Groot accepted a soccer scholarship as well last month.
Dordt College in Iowa is a place the young De Groot has wanted to attend for a while. His older sister is attending school there now and Dordt is where both his parents attended and met.
De Groot received a $4,500 a year academic scholarship to Dordt previously and had decided against playing soccer at college.
The 5-11, 155-lb. senior at SCHS scored 30 goals in his career playing soccer for the Knights. He served as co-captain for many of the team's games this past season and was named the team's most valuable offensive player.
He was ready to give that up for school.
"I thought I'd be way too busy for soccer," he said. "I thought it would be better to focus on other things."
But his play spread by word of mouth to the current soccer coach at Dordt and he offered De Groot a $2,000 a year scholarship to play for the Dordt Defenders.
De Groot quickly changed his mind and accepted the offer.
Michael's dad, Tim, was a standout soccer player at Dordt himself and the younger De Groot says his dad still holds many records at the school.
He said he will try to break some but admits it's going to be pretty tough.
Still, he's excited and he expects to see some action in the forward position next year, although doesn't expect to start because of the many seniors on the team.
The Defenders were 8-7-2 overall in 2007 and finished 5-5-2 in the Great Plains Athletic Conference.