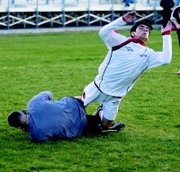 After losing three of its last four games the Sunnyside High School soccer team still found themselves tied for second place in the Columbia Basin League.
Still, a win was needed to pump some confidence into the Grizzlies and they got it with a thrilling 1-0 overtime win against the Kennewick Lions at Clem Senn Field in Sunnyside last night.
"Everybody brought it on," Sunnyside Coach Juan Pineda said. "As a team they all participated at full-throttle."
From the start it wasn't hard to tell who was the more physical team. Sunnyside created several opportunities to score but the Lions, led by keeper Ben Wagar, held off each Sunnyside assault.
In the first half alone the Grizzlies created nine scoring opportunities and had four solo one-on-ones with Kennewick's keeper. Each time Wagar shut down the Grizzlies.
"He was impressive," Pineda said of Wagar.
At one point late in the first half Wagar came out to meet a streaking Jordan Esqueda, who barely missed a scoring opportunity. When Wagar charged out to meet Esqueda they both collided and Wagar went down hard.
He quickly shook that off to prevent two more scoring opportunities by Esqueda with less than a minute left to play in the half.
All told the Grizzlies sent 22 shots Wagar's way, nine of them clear shots, according to Pineda. He was able to stop all but one.
It was in the second minute of the first five-minute sudden death overtime period when Sunnyside finally got the better of Wagar.
Sunnyside's sweeper, Luis Perez, sent a long pass to Jesus Solis.
"This gave Solis an opportunity for him to go one-on-one with the keeper," Pineda said.
With the ball still in the air both Solis and Wagar jumped for it, however, Solis was able to beat Wagar to the ball and he headed it in for the game winning goal.
In the action Solis was hit hard in the ribs while still in the air, coming down hard to knock the wind out of him.
"It was a heroic move by him," Pineda added. "It ended the match but Solis was half unconscious."
Solis was taken to the hospital, where he was treated and released with bruised ribs.
"Both teams were being warriors out there," Pineda said.
The win gives Sunnyside a season sweep over the Lions, a team that has impressed Pineda and his boys.
"I have a lot of respect for them," he said of Kennewick. "This win gives us confidence again. We have been doing things right but this makes it easier for us. It puts us back on the same page together. We can cross off those losses and start on a new page."
Sunnyside finished with 22 shots on goal while the Lions had eight.
Sunnyside's keeper, Joaquin Perez, had a total of six saves and Wager was credited with 16.
The win gives the Grizzlies a 5-3 league record, and 7-3 overall. Sunnyside will travel to Richland tomorrow (Saturday), April 12, for a 1 p.m. match with the Hanford Falcons.