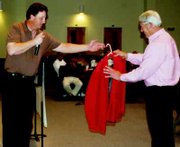 Even as he sought to fit in and be accepted when his family moved to Sunnyside in 1950, Jake Kupp knew he had greatness in him to play baseball for the New York Yankees.
Last night, Thursday, he was back in his home town to tell a Young Life fundraiser audience that he ultimately found acceptance in Jesus Christ, not in sports.
Kupp, a 1959 Sunnyside alum, starred on the Grizzly gridiron before playing football at the University of Washington.
He was only part right about the pro sports dream, as his big stage would come in the NFL, not Major League Baseball.
Kupp says he was shocked to be selected in the NFL draft. When his wife called to tell him the Cowboys had drafted him, he drew laughs when he told the crowd he didn't even know the draft was underway.
In an NFL career that spanned 12 years with three different teams, Kupp said it was Dallas Coach Tom Landry who provided an example in living a life that was centered on a relationship with Jesus Christ.
As to the purpose of last night's meeting, a fundraiser for Lower Valley Young Life, Kupp asked people to support the Christian group's efforts to reach out to young people.
"How do kids find acceptance today?" he asked the crowd. "How do they find out that there's a God who loves them?"
Estimating that probably less than 20 percent of high school and middle school youth go inside a church building, Kupp said Young Life "goes to the kids."
He added, "Young Life accepts kids right where they are so they can know what it is like to know their Heavenly Father and be accepted."
To donate time or money for Lower Valley Young Life, a non-profit organization, contact Scott Abbott at 839-6535 or Jim Slinker at 509-391-5179.