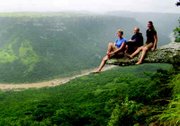 When Jessica and Caitlin Aleman left Sunnyside this past fall to work in South Africa with orphaned children, they knew nothing could prepare them for the experience.
Back in October, Jessica said, "We've been told there really is no way to prepare."
Turns out, the advice was true.
The Aleman sisters returned from their trip late last month and Caitlin confirmed the warning.
"The first day was awesome," she said. "The second day, we were crying. You couldn't talk to anybody, you're with kids who have no family and have horrific stories and you're out in the middle of nowhere."
She added, "The warning was good. But you don't really understand until you go through it."
Eventually the sisters and their traveling companion, Meighan Dedood, adjusted.
The three were in South Africa, participating in the Doctors for Life program. "They are a great organization. I would recommend them to anyone who wants to go," said Caitlin. "They're very culturally aware, so we learned a lot about Zulu culture."
When they first arrived, they were in for culture shock. The first orphanage they worked at, there was no running water, no electricity and only one English speaking person. "That was the first place we went," said Caitlin.
But, she added, it's surprising how quickly one can adjust. "We stayed in some nasty places. It's surprising what you learn to eat, what you learn to deal with, emotionally and physically."
The sisters were constantly meeting and caring for orphaned children, some with AIDS, some with entire families wiped out by AIDS, like young Sithandiwe.
"When we met him, he was beyond help, he couldn't hold any food down and he was basically starving to death. His parents had both died, as well as all of his brothers and sisters. He was the last one left of his family," said Caitlin.
There are happier stories, though. Like young Longani and Yanco. "Longani was one of the first babies to come into the Tiyamike Mulungu Center in Malawi," said Caitlin. "He came in at just one week old and he was very malnourished and ill. They didn't think he was going to make it. Today, he's four-years-old and has the cutest smile."
Of Yanco, Caitlin said, "(He's) one of the new kids at the center. When we were there he had only been there for a month, but (he's) begun to come out of his shell and is making good friends."
Then there's little Yohane, who Caitlin describes as "our little baby." His grandparents walked 30 kilometers in 100 degree heat to bring him to the orphanage. "His mom was dying and his dad was already dead from AIDS. He was three weeks old, and basically only drank water with (a little bit of) maize."
The girls were warned that Yohane probably wouldn't make it and not to get too attached.
They ignored the advice, sleeping with and caring for the infant in shifts among the three of them. "He's our baby. He went everywhere with us."
It was hard for the young women to part with him. "I'd love to go down there and get him," said Caitlin, who added young Yohane is doing much better health-wise.
Another adjustment for the trio was the food, especially one dish Caitlin describes as a nasty paste. She explained that maize is used in almost everything and the "nasty dish" is maize cooked until it has a rubbery consistency. "It looked like mashed potatoes, but it wasn't," she said.
"Every once in a while, we'd go into town and get a burger," she said, adding they'd often "wolf" them down.
The candy found in Africa wasn't appealing either. While their, the Aleman sisters would get care packages from their mother containing chocolate. "We'd eat one a day and we loved it. I must have gotten 10 pounds of chocolate when I was there."
The Aleman parents actually trekked to South Africa to spend time with their daughters."Oh, it was such a relief," said Caitlin. "It helped to have something to look forward to."
The third and final leg of their journey was to take place in Kenya. But Dedood got word that a friend of hers was riding a public bus that was hijacked. The friend "disappeared into the brush," and didn't emerge for a week, said Caitlin. He was unscathed, but the trio was convinced that Kenya wasn't safe.
This changed their travel log to include Great Britain and Ireland. Fortunately, the girls could stay with friends in both countries.
But South Africa appears to be where Caitlin's heart is. When asked if she'd go back, she said, "As soon as I can. I would love to move there someday and work there."
Caitlin said that she and her sister received tremendous community support, both financially and emotionally.
The Aleman sisters will give a presentation regarding their work in South Africa on Tuesday, April 15, at 7 p.m. at the Sunnyside Christian Elementary School gym and are inviting interested community members to attend.
"Community members donated money, prayer and thoughts and I'd love to have them come," she said.