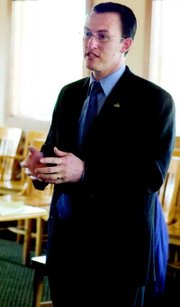 A leadership class in its infancy will be expanded for the 2008-09 school year at Yakima Valley Community College in Grandview.
YVCC Grandview Campus Dean Bryce Humpherys told the Sunnyside Chamber of Commerce at a meeting held yesterday (Thursday) that Leadership Grandview was born from an idea the Grandview City Council came up with at a retreat held two years ago.
"Scott Staples (Grandview's city administrator) approached me and said the council wanted to increase leadership in the community," Humpherys said.
So Humpherys launched a class this school year at the Grandview campus of YVCC and the students meet once a month for an all-day session.
"They focus on a different section each time," he added.
He said the students learn how their community works. They learn about economic development, diversity and the economy.
Each month when the students meet a subject is picked. One time, Humpherys said, it was city government. Former Grandview mayor and current council member Jesse Palacios led the effort for Leadership Grandview and brought in several speakers to speak on city government.
Another class session was spent on law and justice. Humpherys said judges, prosecutors and defense attorneys, and others came to speak with the students.
"By the time the students made it through the day they were amazed at how much information there was," he added.
Because of the success of Leadership Grandview, Humpherys now wants to expand the program and morph it into Leadership Yakima Valley, which will include the communities of Grandview, Mabton, Sunnyside and Granger.
Leadership Yakima Valley will target individuals who actively participate in the community, are committed to service in the community or have an interest in assuming leadership roles.
Room in the class is limited to 20 to 25 people and class members will picked by the Leadership Yakima Valley Steering Committee.
Class members will meet for a full day on the second Wednesday of each month, from September through May.
Tuition is $250 for each participant and includes meals, training materials and all other expenses for the seminars and graduation.
Humpherys told the chamber of commerce this program is a very proactive way to help each community's needs.
Fourteen students participated in Leadership Grandview this year and Humpherys said 90 percent of the participants had employers who were involved with either the chamber of commerce or rotary. He encouraged the chamber members to allow their employees the time off once a month if they decide to participate.
"So is this like growing our own leaders," Sunnyside Councilman Carol Stone asked Humpherys.
"Yes, that's exactly what it is," he answered.