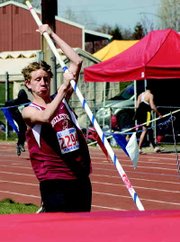 YAKIMA - Bickleton tracksters competed amongst 4A and 3A peers this past Saturday at Davis High School.
"We jumped in with the big fish at this large school invite where over 20 schools competed," said Bickleton Coach Darrell Lang. But, he added, "The competition was top notch and we were a little rusty after spring break and two weeks off of no meets."
Eric Hess was the lone Pirate to place in varsity competition. Hess took fourth in the discus, throwing 132-9. In the shot-put, Hess placed ninth with a throw of 42-8.
Teammate Patrick Maeder cleared 11-6 in the pole vault for a 10th place finish.
Star Kibby of Bickleton placed sixth in the long jump and seventh in the 100-meter in the freshman/sophomore category. She raced to a 14.3 clocking in the 100, and jumped 14-2.
Lady Pirate Alejandra Molena also competed Saturday. Her 86-1 and 28-1 throws in the discus and shot-put, respectively, didn't garner her a top 10 finish.
Bickleton's Andrew Venema also competed and didn't place. Venema cleared the 300-meter hurdles in 46.67 and jumped 5-8 in the long jump.
The Bickleton tracksters next compete at Kittitas this Tuesday, with the exception of the sophomores, who will be taking WASL tests.