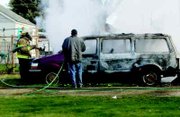 RICHLAND - The Sunnyside High School soccer team stayed tied with Eastmont and just one game back of Columbia Basin League leader Southridge with a 3-0 defeat of the Hanford Falcons this past Saturday.
"We were very organized," Sunnyside Coach Juan Pineda said. "Our intensity level has picked up."
The win gives the Grizzlies the chance to control their own destiny. If Sunnyside can win their next three games against Kamiakin, Southridge and Eastmont, Sunnyside can guarantee a finish no worse than a share of the league title.
Pineda said both teams were evenly matched for the first 20 minutes of this past Saturday's match until Sunnyside began to read the play of the Falcons.
"After we started being able to read them Hanford never changed their tactics," Pineda said.
That led to Sunnyside's first goal in the 35th minute of play.
The Grizzlies had been penetrating deep in Hanford territory so the Falcons' keeper decided to clear the ball. It went wide and Sunnyside's Brian Galvan picked it up near the sideline and crossed the ball in front of the Hanford goal. Teammate Jordan Esqueda picked it up in stride and pushed the ball in for his first goal of the season.
Soon after the start of the second half, in the 46th minute of play, Sunnyside got on the scoreboard again.
Putting pressure on the Hanford defense, Sunnyside's Matt Jongsma kicked a hard shot at the goal from the 18-yard line. The Hanford keeper managed to block it but couldn't keep hold of the ball. That's when Galvan stepped in to grab the rebound and scored to give Sunnyside a 2-0 lead.
The Grizzlies put the game out of reach in the 63rd minute of play on a Jesus Gudino goal. Sunnyside was awarded a corner kick and Emmanuel Acevedo served the ball with a spin. The Hanford keeper couldn't quite get a hold on the ball and Gudino grabbed it, set himself up and nailed a quick shot into the net.
"It was the speed of the shot that made the difference," Pineda said.
The Grizzlies shot at the goal 13 times during the match compared with just eight times for Hanford.
Joaquin Perez made seven saves for Sunnyside.
"Our defense did a great job again," Pineda said. "Once we scored the first goal it really pumped everyone up."
Pineda pointed out the play of Jongsma, who guarded the Falcons' top player, Dino Ramic, and shut him out.
He also pointed out the play of Humberto Bermudez and Gudino, who were both subs in the game.
"They gave us a good spark up front," he added.
Sunnyside (6-3, 8-3) will travel to Kennewick next Saturday, April 19, for an 11 a.m. game with Kamiakin at Lampson Stadium.