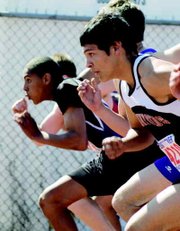 YAKIMA - The Sunnyside High School track squad had three relay teams finish in the top three of their respective events during the Davis Invite held this past Saturday at Zaepfel Stadium.
The Grizzly boys distance medley foursome of Roy Haringa, Gracen Gonzalez, Victor Rios and Patrick Watts earned first-place honors with a time of 4:55.87.
"It was the first event of the day," said Sunnyside Coach Robin Bryson. "It was a really cool way to kick off the meet."
Sunnyside had two boys relay teams in freshman/sophomore competition which placed high.
The frosh/soph 4x400 relay team of Rios, Guadalupe Mendoza, Efrain Silva and Kennedy Sarmiento placed second with a clocking of 3:42.46. The foursome was less than one second back of Richland's first-place mark of 3:41.51. The boys 4x100 freshman/sophomore quartet of Silva, Mendoza, Rios and Sarmiento was third with a time of 46.68.
In other boys competition, Haringa was fourth in the 110 hurdles with a season's best mark of 16.5, and placed eighth in the 300 hurdles in 44.08.
Sunnyside's Jose Madrigal was eighth in the 100-meter dash with a personal best of 11.84. "That was his first time under 12 seconds," Bryson observed.
Gonzalez was eighth in the 3,200 meters with a personal best of 10:38.89. Also claiming top eight finishes in varsity competition was Brice Rinehold, who was seventh in the discus with a throw of 129-6 and had a sixth-place mark of 156-4 in the javelin.
In freshman/sophomore competition, Sarmiento set personal best marks of 16.6 in the 110 hurdles to claim first-place honors, and 54.6 in the 400 meters to earn fourth place. Rios was eighth in the 100 with his season best time of 12.05.
In girls competition, Sunnyside's Jordyne Jaquish leaped a foot further than her previous best mark in the long jump with a 16-9.5 effort that was good for fourth place. "That was probably the most impressive mark on the girls side (for Sunnyside)," said Bryson. Jaquish was also seventh in the high jump at five feet, one of nine girls in the event to clear that mark. "That was a very loaded girls high jump field," Bryson noted.
Teammate Claire Schilperoort was seventh in the shot with a mark of 31-3. Bryson said it was the first time Schilperoort had cleared 30 feet in that event. Schilperoort was also fourth in the discus with a mark of 102-6, and third in the javelin with a throw of 120-2.5.
In frosh/soph competition on the girls side, Sunnyside's Jocelyn Yanez was third in the 1,600 in 5:57.45, and fourth in the 800 with a clocking of 2:40.62.
A total of 19 schools competed in the non-scoring team event, and Bryson said it was the first true spring weather the Grizzlies enjoyed in competition.
"Across the board we had a lot better performances," she said. "It warmed up a little bit and it was so nice not to have a lot of wind."
Bryson said Sunnyside's track and field athletes are warming up as well.
"People are getting into shape and continuing to train."
The Grizzlies will look to continue their progress at this coming Saturday's Pasco Invite.