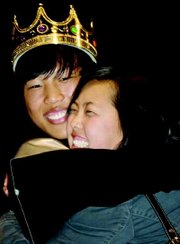 The annual Mr. SHS Pageant was held this past Saturday evening at the Sunnyside High School auditorium.
Competing for the title were eight young men, who worked diligently to raise funds for the Children's Miracle Network.
This year's "Miracle Child" was Amy Cruz, a three-year-old who was born with her intestines and liver outside of her abdomen. The youngster recently celebrated her birthday.
Doctors predicted she would not have the ability to walk, according to her mother, Rocio. "However, Amy is able to walk and she is considered a true miracle," said Rocio.
The young men competing in the Mr. SHS Pageant included Danny Alvarez, Billy Davila, Brice Rinehold, Michael Bermudez, Anthony Kim, Gilberto Villalobos, Blake Coleman and Miguel Lugo.
Each of the contestants participated in a dance routine to the song "Men in Black" as part of the evening's theme.
They followed up the show of enthusiasm with skits of their child escorts' ambitions. "What I Want to Be When I Grow Up" highlighted talents of youngsters wanting to be a veterinarian, a doctor, a firefighter, a dancer, a police officer, a teacher and a drill sergeant.
The audience was entertained with talent including Kim's rendition of "Meditation of Titus" on the violin. Blake Coleman involved the crowd with his vocal performance of "Good Morning Beautiful," which was released by country music artist Steve Holy, and Michael Bermudez performed a drama skit for the crowd.
Brice Rinehold dressed as a clown and created a number of balloon animals, eliciting a chuckle from the audience members as a couple of them popped, and Billy Davila and Danny Alvarez teamed up for a dance performance to a musical number by Step and Soldier Boy.
Gilberto Villalobos strummed his guitar as he performed "Hey There Delilah" and Miguel Lugos danced with his soccer ball and a few friends to the beat of "Pump Up the Jam."
Following the many talents of the young men were tributes to their parents, expressing the gratitude for all the parents have done for the boys.
The eight young men, dressed in tuxedos, completed the pageant with an interview segment in which they were asked two questions apiece.
Danny Alvarez was asked the final two questions, of which the second was, "If you were stranded on a deserted island for the rest of your life, what three things would you take with you and why?"
His answer, "My iPod because I love music, a car door so when it gets hot I could roll down the window and a hammock to 'chill'."
The masters of ceremony for the Mr. SHS Pageant were Sunnyside High School tennis Coach Troy Whittle and Senior Advisor Holly Ohler. The pair kept the audience engaged between segments and announced that more than $1,100 had been raised to benefit Children's Miracle Network during a "Dash for Cash" held at the pageant. All told the total was $6,200 raised through a series of fundraisers held by the contestants.
A check for the funds was presented to Marilyn Van Oostrum, a nurse at Children's Village.
Brice Rinehold was named Mr. Congeniality and the evening was capped off with the announcement of the newly crowned Mr. SHS, Anthony Kim.
Kim said, "It isn't about being Mr. SHS...it's really about helping the kids through Children's Miracle Network...it's about Amy (Cruz)."