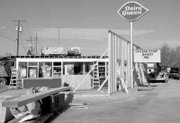 GRANDVIEW - Ken Herber, owner of the Grandview Dairy Queen, has always wanted to provide his customers with a better seating area than the business' 1953 structure offered.
He is finally realizing his dream of expanding the popular fast food eatery.
Rick's Construction recently began working on an 1,100 square-foot expansion of the building.
"It will contain a much larger seating area and new restrooms," Herber said.
He stated that plans have been in the works for the last two years. He had to purchase city property that runs adjacent to the existing property line and negotiate his vision with Dairy Queen.
"It is going to be a compromise between the old Dairy Queen and the Chill and Grill concept," Herber commented, stating that the exterior of the building will be stucco and the menu will be expanded.
He said the former seating area will house refrigerators and the kitchen of the restaurant will be expanded.
Herber's father was the original owner of the Grandview restaurant. Herber's brother purchased the eatery from their father and, approximately 23 years ago, Herber purchased the restaurant from his brother.
He said he added the drive-thru for his customers five or six years ago. "The seating area only accommodates 12 people," he noted, stating that he felt the community members who frequent the Grandview Dairy Queen needed more options.
The new seating area will meet the needs of his customers and will be a more modern area for customers to sit and enjoy their meals, according to Herber.
He said the target for completion of the expansion project is set for June.
In the meantime, said Herber, "We will remain open most days with anticipation of maybe being closed five or six days...barring any unforeseen circumstances."
There will be days when only the drive-thru will be open because of the construction, but Herber said he has hopes of preventing as little inconvenience for his customers as possible.
"What is now and what will be...is the difference between night and day," he commented regarding the improvements being made at his restaurant.
.