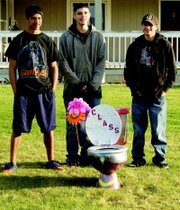 GRANDVIEW - Last Sunday morning, Dan and Shelby Hall of Grandview were wakened by the sound of mischief in their front lawn.
The mischief, however, was not malicious...it was all in the name of raising funds.
The Grandview High School class of 2009 targeted the Halls as the first recipients of their "Don't Be Potty'd" fundraising campaign.
In an effort to raise funds for a class trip, the students and the class of 2009 parent booster club decided the campaign would be an entertaining fundraiser.
"One of the parents suggested the idea," said Angela Key, a parent booster club member.
She said the toilet will travel to various lawns within the community. Insurance can be purchased to prevent delivery to a particular home. Insurance is offered at the price of a $20 donation.
If, by chance, the toilet does appear on a homeowner's lawn, the homeowner can donate $5 for removal or $10 for removal and the choice as to whom the next recipient of the "potty" will be.
Persons wishing to have a particular home targeted for the toilet can also donate $5.
Key said the fundraiser will last until May 30.
"We will take a break during the summer and start the fundraiser again in the fall," she noted.
The toilet has been decorated with paint and a couple of flowers. Each homeowner will receive notification with information about the fundraiser when they have been "potty'd."
"The students are really excited about the idea of raising enough money for a trip. If the funds aren't there, they will have a party. But, it is all in the spirit of fun," said Key.
She said persons interested in participating in the fundraiser can call the "Traveling Toilet Hotline" at 837-7127 or 882-2841.