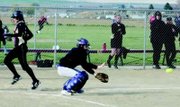 The class 1B Sunnyside Christian Lady Knights upended the Goldendale Timberwolves twice yesterday, 10-4 and 10-5.
For the Sunnyside Christian girls fastpitch softball team (9-2), it was the squad's second doubleheader sweep of a 1A club in as many outings. The Lady Knights defeated 1A Naches Valley twice last Thursday.
In taking the first game by a 10-4 score yesterday, Sunnyside Christian received a 2-for-2 effort at the plate from hurler Hilari Bosma, which included blasting a three-run homer in the bottom of the fourth. Teammate Melanie Van Wingerden added a 2-for-3 offensive effort for the winners enroute to socking a two-run double in the bottom of the first.
Bosma set seven Goldendale batters down on strikes in the opener while scattering four hits. She walked only one.
In Tuesday's nightcap, the Lady Knights took advantage of nine walks issued by Haley Hudson to claim a 10-5 victory.
After the Timberwolves scored three runs in the top of the second to go up 3-1, thanks chiefly to a two-run dinger by Kayla Graf, Sunnyside Christian responded in its half of the second to take the lead for good. The Lady Knights only got one hit that frame, an RBI single off the bat of Emma Newhouse, but parlayed four walks into another three runs.
Sunnyside Christian put the game away for good with a three-run uprising in the bottom of the fourth. After two consecutive walks to open the inning, Bosma lashed a two-run single and Van Wingerden followed with a run-scoring single of her own.
The Lady Knights return to action next Tuesday, April 22, at home with a doubleheader against visiting Mabton.