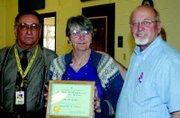 WAPATO - Some 100 senior meal volunteers were honored recently at a luncheon at the Wapato Community Center for their service to senior citizens across Yakima County.
Among them were Stella Tyler of Sunnyside and Freda Keelin of Grandview.
"In 2007, our volunteers put in over 10,600 hours to help serve 49,733 meals for our senior dining rooms and another 48,773 home-delivered meals to a total of 2,026 senior citizens," Jerry Baldoz, Director of Senior Food Services for Yakima County and Meals-On-Wheels, said.
"Without their help, it would cost an additional $150,000 to operate the Meals-On-Wheels program," he said. "The program was created as one of the most important services for senior citizens.
Baldoz said seniors come to the meal program for more than good food, noting that 98 percent of seniors surveyed said they attended the meals to socialize and meet new friends.
Yakima County Commissioner Ron Gamache said the senior meals program is vital.
"This is important," Gamache said. "What you do makes it happen. I think it is important to help keep our Valley healthy, fruitful in every way. Thank you for your help."
After a special presentation to Sea Galley Restaurants, Baldoz present plaques to the "Volunteer of the Year" at each meal site. Tyler and Keelin received the award for the Sunnyside and Grandview meal sites, respectively.
"The volunteers at each meal site nominated the person that they felt was the best volunteer of the year," Baldoz said. "That person was always there. That person did whatever was necessary to make sure that our site managers were able to provide meals, and that everyone is happy; that everything is neat and clean and they often helped clean up afterwards."
In closing, Baldoz told the volunteers, "You will never understand how much we appreciate your help. Honestly, we do! I want to applaud you!"