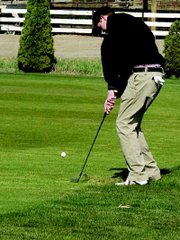 A four-jack on the ninth and final green prevented Sunnyside High School senior Justin Bos from topping the field in last Friday's non-league golf match against the visiting Selah Vikings.
Bos ended up settling for a share of medalist honors, as both he and Selah's J.J. Wood ended up with 1-over-par 37's.
Playing on his home Black Rock Creek course, Bos four-putted the final green for a double-bogey.
"Justin was one-under heading into No. 9," said Sunnyside Coach Ryan Wattenbarger. "He was having a super round, especially considering how miserable the weather conditions were."
Friday's match was originally scheduled as an 18-hole competition, but because of the stiff winds and cold the prep linksters opted to head to the clubhouse at the turn instead of to the back nine.
Team-wise, Selah ran away with the victory last Friday, besting the host Grizzlies by 37 strokes (161-198).
"Selah's got four kids who went to State last year," said Wattenbarger. "They've got a very strong team."
Just one shot back of Wood was Viking teammate Tyler Sugden, who carded a 2-over-par 38. Selah's two other varsity golfers posted rounds of 42 and 44.
With the exception of Bos, Sunnyside on the other hand is rebuilding this year with novices. Turning in the second low round for the Grizzlies was A.J. Visser, who posted a 51. Three shots back at 54 was teammate Stephen Bosma, with Nick Navarro rounding out the scoring for Sunnyside with a 56.
The Grizzly linksters are scheduled to compete at their third Columbia Basin League match of the season tonight (Monday) at the Tri-City Country Club in Kennewick. Sunnyside's girls golf squad will play at its second league match of the season this Tuesday at Horn Rapids Golf Course in Richland.