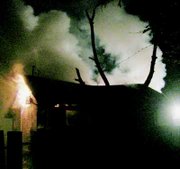 Sunnyside firefighters were called to the 1200 block of Hilzer Alley at 2:24 a.m. Sunday morning and then back again at 1:28 a.m. this morning (Monday) for a structure fire.
The house is an unoccupied residence and was completely destroyed. Firefighters extinguished the house fire Sunday morning and returned to the scene early this morning when it is believed the fire was reset.
Causes of both fires are under investigation. No information on the value of the house was available at press time.
At 1:56 p.m. this past Friday, firefighters were called to 1800 block of South First Street for a report of a car fire. Fire crews extinguished the blaze. Damages are estimated at $1,800.
Firefighters also extinguished three brush fires since last Thursday. Firefighters extinguished brush fires in the 2400 block of Picard Place at 5:18 p.m. on Friday and one at milepost 69 on I-82 at 8:26 p.m., also on Friday. Firefighters also put out a brush fire in the 7200 block of Van Belle Road at 10:34 p.m. on Thursday.
Also since last Thursday, Sunnyside firefighters have answered 13 aid calls and transported one patient to the hospital. Firefighters also provided three transfers.