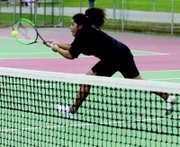 West Valley proved to the Sunnyside Grizzlies yesterday why both its boys and girls tennis squads are again at the top of the 3A Columbia Basin League standings.
The Rams blanked both Sunnyside teams, 7-0.
In assessing Tuesday afternoon's girls play, Sunnyside Coach Troy Whittle said aside from a couple matches, "...we were very competitive against the two-time defending league champs, last year's State champions and the team that has lost once in three years."
Whittle was especially pleased with the play of his No. 2 and 4 singles players.
"I can't say enough about how impressed I am with the progress of Avalon Valencia and Christine Kim," said Whittle. "Both are first year players and sophomores.
"They both played excellent matches, the best I have seen to this point. It was the most consistent hitting at singles play we have had this season," Whittle said of the Sunnyside duo.
Kim, at girls No. 2 singles, gave West Valley's Hannah Kim all the Lady Ram could handle before dropping a 6-1, 6-3 decision. Valencia, playing No. 4 singles, was just as competitive against West Valley's Alisse Urlacher, eventually dropping 6-2, 6-3 sets to the Lady Ram tennis player.
West Valley's top rated singles player, Alexis Filliol, cruised to a 6-0, 6-0 victory over Sunnyside's Cindy Gudino. At No. 3 singles, Britanny Gjestrum of West Valley prevailed by identical 6-0, 6-0 scores over Jamie Zijilstra.
In girls doubles, Sunnyside was a bit more competitive. The No. 1 duo of Tate Foster and Kaitlyn Bowman had to work hard to beat Sunnyside's Madonna Gonzalez and Regina Mendez 6-3, 6-4. At No. 2 girls doubles, West Valley's Hillary Pratt and Meg Guncee bested Bo Kim and Cristal Sandoval by identical 6-3 sets. Sunnyside's Sasha Castro and Hannah Marro, at No. 3 girls doubles, took Tiffany Sisson and Becca Sherman to overtime in the first set, but eventually fell to the two Lady Rams 7-5, 6-1.
In boys play yesterday, Sunnyside's best effort came from its No. 1 doubles squad. The duo of Jonas Linde and Daniel Wavrin split the opening two sets with West Valley's Greg Mathis and Joel Panattoni before succumbing in the final set, 6-2.
West Valley won the remainder of the boys matches in straight sets.