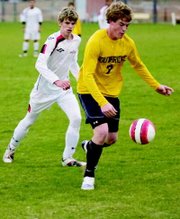 The Sunnyside High School soccer team took another step towards a league title last night with a 1-0 win over the Southridge Suns.
The Grizzlies will take on the Eastmont Wildcats on Saturday. Eastmont is one game behind Sunnyside for first place. If the Wildcats win this Thursday they will tie Sunnyside, and the winner of Saturday's game will claim the CBL League title.
If Eastmont loses on Thursday Sunnyside will clinch the league title no matter what happens on Saturday because Sunnyside leads Eastmont in points.
But first the Grizzlies had to get past the Suns, a team that beat Sunnyside back on March 29.
"In the first half we were very passive," Sunnyside Coach Juan Pineda said of last night's game. "We couldn't get a rhythm going. We were not showing any intensity."
Pineda said Southridge was beating his Grizzlies to the ball. The Suns weren't capitalizing on any scoring opportunities but they held a good presence against Sunnyside for most of the first half.
"To beat Southridge you have to give more than 100 percent," Pineda added.
At halftime the Sunnyside coach told his team how important this game was for Sunnyside. It was senior night and was the last home game of the season for the seniors on the team.
"That riled them up," he said. "Even before taking the field they were jumping around, we were a different team.
After that Pineda said Southridge couldn't handle the Grizzlies.
"We were taking risks and had a lot of confidence in our passing game," he added.
The lone goal came in the 56th minute of play. As Sunnyside was pressuring Southridge, Armando Ortiz passed to Sunnyside teammate Rogelio Chavez, who snuck up from the defensive positions unmarked to rocket a shot through two Southridge defenders and past the Southridge keeper.
Sunnyside finished with eight shots on goal and Southridge had seven. Joaquin Perez saved five shots for the Grizzlies and his counterpart, Brenden Hale, saved five.
Sunnyside will finish league play this Saturday, April 26, with an 11 a.m. game against Eastmont. Sunnyside will finish the regular season with a non-league game against Davis High School Tuesday, April 29.