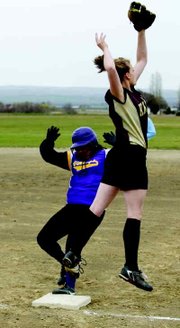 Hilari Bosma twirled a one-hitter in the opener yesterday, and teammate Emma Newhouse went 3-for-4 at the plate in the nightcap enroute to the Sunnyside Christian Lady Knights sweeping a non-league doubleheader from the visiting Mabton High School girls fastpitch softball team.
Sunnyside Christian (11-2) made short work of the Lady Vikings (2-9) in the first game, called after five innings due to the 10-run mercy rule. Bosma allowed just a fourth inning single to Consuelo Flores in the Lady Knights' 11-1 victory. The southpaw hurler fanned seven and walked only two in going the distance.
Offensively for the winners in game one, Newhouse brought an end to the contest by blasting a grand slam in the bottom of the fifth, which upped Sunnyside Christian's lead to 10 runs. Newhouse also slapped an RBI single in the fourth.
Also coming through at the plate for the Lady Knights in the opener were Abby Bangs, 2-for-3 with a solo homer in the bottom of the third, and Naomi den Hoed, who doubled in the fifth.
The second game of Tuesday afternoon's doubleheader was much closer, as Sunnyside Christian only prevailed by a 7-5 score. Newhouse was the offensive catalyst for the Lady Knights, banging out three hits in four trips to the plate, which included socking a triple in the fourth inning and lashing an RBI single in the bottom of the first.
Class 1A Mabton garnered three hits off Ashley Haak in the twin bill finale-singles by Flores, Arreola and Quesada. Arreola drove in three of Mabton's five runs, one with a single and the other two with fielder's choices.
Haak went the distance atop the pitching rubber in the nightcap, scattering the three hits while striking out seven and walking seven.
1B Sunnyside Christian is scheduled to host another non-league game this coming Thursday, against the 2A Grandview Greyhounds.