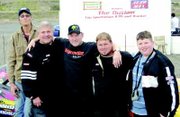 WAPATO - Racing in the inaugural Top Sportsman Class, Yakima's Jay Fulcher raced to win the top prize at Renegade Raceway last Sunday and then went on to win the "King of the Hill" race against the Super Pro Class winner.
Fulcher, who is a member of the Johnny "B" Good Racing team in Sunnyside, won for the second straight time this season at Renegade Raceway and is currently the points leader.
Fulcher drove a 1968 Chevy Camaro in the new class, where only cars with a closed roof and doors can enter. Running at speeds of 160 mph, Fulcher won the event sponsored by Automax USA.
The Johnny "B" Good driver had an easy time in the first round of racing. Fulcher's opponent had mechanical difficulties and made it only halfway down the track.
In the second round Fulcher said the race was very close and both drivers broke out.
Fulcher had dialed a time of 8.72 seconds but beat it by .200 of a second. His opponent broke out .300 of a second ahead of his time and Fulcher was awarded the win, moving him into the semi-finals.
There he got the benefit of a good start and beat his opponent easily.
In the finals Fulcher dialed in a time of 7.2 seconds and he hit it perfectly. His opponent, who had dialed in a time of 7.90 seconds, broke out with a time of 7.88 seconds.
The victory put $1,000 in Fulcher's pocket and he added another $250 when he won the "King of the Hill", a race between the winners of the Outlaw Top Sportsman class and the Super Pro class.
"In that race the beginning was a factor," Fulcher said. "It was a situation where the reaction time made the difference. I got a good light and he got a bad one."
Fulcher, who won the first race of the season at Renegade Raceway April 6 in the Super Pro Class, added to his points total with last Sunday's win and now leads the field with 101. His closest competitor, Mike Sharples, trails Fulcher by 40 points with 61.
Michael Dalrymple, another driver on the Johnny "B" Good Racing team, made it to the semi-finals in the Super Pro class last Sunday and has 20 points for the season.