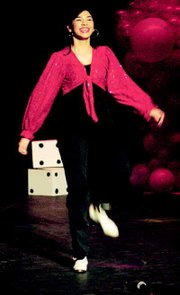 With the hustle and bustle of last week's Miss Cinco de Mayo Pageant over with and the new court selected, the 2008-09 Miss Cinco de Mayo sat down with the Daily Sun News to speak of her plans and goals for the next year.
Jazmine Salmeron looks happy and content wearing the Miss Cinco de Mayo crown and sash. She wants to work with migrant families as her community service project. Her hope is to get parents who migrate from area to area doing farm work to be more involved with their children's lives at school.
"I feel education is a big part of life," Salmeron said as she explained her reasoning behind her project. "It's what you need if you want to get somewhere in life."
She said she believes students who move from one school to another as often as children of migrant workers do might feel like giving up sometimes because of all the moving around. It's in times like those where students can make bad decisions, such as gangs or drugs.
"I'm sure the parents don't want that," Salmeron added.
Salmeron and the rest of the Miss Cinco de Mayo Court will try to identify migrant students through school resources and the Latino Culture Club. By sending home invitations to the parents to come to meetings, Salmeron hopes to inform migrant families about the WASL, SATs, summer school and other school activities available to help students.
She said she hopes to have a couple of meetings before the end of the current school year and then maybe one per quarter for next year.
Salmeron said she also wants to work on her court's other projects as well. One of those is working with Lower Valley Crisis and Support Services, a project Miss Cinco de Mayo Princess Rubi Chavez is excited about.
Salmeron said the court will help collect used cell phones so they can be reprogrammed to only call 911. These phones are then given to victims of sexual or domestic assault.
The newest Miss Cinco de Mayo said her goal for this year is to help spread the word about what Sunnyside has to offer.
"We want to be positive all of the time," she said. "Just keep a good image and be a positive role model for other girls."
She said her court will get the word out about Sunnyside by attending parades and events around the Northwest.
Being a member of the Miss Cinco de Mayo Court means being busy for a year straight. To help her through Salmeron jokingly said she plans on staying organized and eating and sleeping as much as she can.
"I'm also going to keep a smile on my face," she added.
The court will host fundraisers to help with expenses of the court. Salmeron said she would like to host community dances.
"It would help bring the community closer and raise money for the Miss Cinco de Mayo Court," she said.
Salmeron also said she wants to use her crown to bring awareness to sexual and domestic assault.
"I hope to be able to make a big difference with my title," she said.