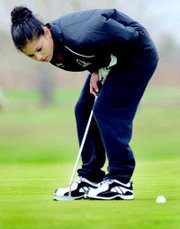 Sunnyside High School sophomore Sarasa Partida, by all indications, is a quick study.
Unable to rejoin her Lady Grizzly fastpitch softball teammates this spring because of an injury, Partida took up the game of golf and it's paying dividends for the Sunnyside linksters.
Yesterday in a non-league, nine-hole match against Grandview's girls golf team, Partida blew away the competition at Black Rock Creek Golf Course. She won by 18 strokes over her closest competitor from Grandview, and bested the next best finisher from Sunnyside by eight strokes.
In carding a 52, Partida recorded three bogeys along the way...a heady performance considering it was only her fourth ever round of golf in a competitive setting.
"Sarasa was very consistent for the entire nine holes," said Sunnyside Coach Gary Rohde.
Finishing eight shots back of Partida with a 60 was teammate Renea Visser, who got off to a rough start on the front nine but finished well, according to Rohde.
Also competing for Sunnyside were Marissa Martin and Tonelle Driesen, who posted rounds of 69 and 80, respectively.
Grandview was only able to field two golfers for Thursday's non-league match. First-year golfer Ivette Frias shot a 70, with Lady Greyhound teammate Hannah Ziegler two shots back at 72.
The Sunnyside girls golf squad is scheduled to compete at a 3A Columbia Basin League POD match at the Tri-City Country Club next Monday, April 28. Grandview's girls will host a CWAC match at Black Rock Creek next Wednesday, April 30.