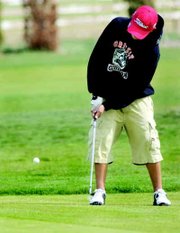 Heading into this spring, the Sunnyside High School boys golf team knew the season was going to be a grind.
After all, the team was returning only one legitimate postseason threat, that being senior Justin Bos. The rest of the team were either novices or newcomers to the world of golf.
The Grizzlies have taken their lumps, but based on yesterday's results from the 3A Columbia Basin League match that they hosted at Black Rock Creek Golf Course, Sunnyside's rebuilding year is take shape.
"We're getting closer," first year Sunnyside Coach Ryan Wattenbarger said.
"Three of our scores were under 100 yesterday. "And our two high scores were just 112. That's definitely an improvement," he said.
"We're headed in the right direction," Wattenbarger added.
As has been the case all season, Sunnyside brought up the rear yesterday, finishing last among the seven league schools. The notable difference, however, is that the Grizzlies tallied a team score well below 400, a season-best 378.
"That put us just 21 strokes back of Kennewick, the team in sixth," said Wattenbarger. "We're getting closer," he reiterated.
With yesterday's breezy weather, scoring conditions weren't ideal at the Sunnyside course. Yet, the senior Bos managed to defend his home turf well, tying for third place honors with a 6-over-par 78. Sharing 78's with the Grizzly were Hanford's Scott Kim and Josh Harvey.
Bos started the league match on hole No. 8, and it took him the entire round before he found his first birdie on the day. He ended up snaring a three on the par-4, seventh to end his round.
The SHS senior found the front nine more to his liking yesterday, as he posted a 1-over-par 37. Bos absorbed a 41 on the back side.
Sunnyside's A.J. Visser and Nathan Espinoza also golfed up to their capabilities Thursday, recording individual rounds of 96 and 97, respectively.
Visser had front and back nine scores of 49-47, while Espinoza went 46-51.
"It was pretty steady golf from the two of them," said Wattenbarger.
Nick Navarro closed out the team scoring for Sunnyside with a 107-54-53.
Also competing for the Grizzlies, although their individual rounds weren't applied to the team total, were Stephen Bosma (57-55) and P.J. Garcia (62-50), each of whom finished with a 112.
Team-wise yesterday, Eastmont and Hanford distinguished themselves from the field, tallying scores of 314 and 317, respectively. West Valley and Southridge were a distant third with team scores of 340. Kamiakin placed fifth with a team score of 353, with Kennewick in sixth with a 357.
Medalist honors were shared by Eastmont's Luke Luttrell and Hanford's Alex Cantu, each of whom shot rounds of 2-over-par 74.
The Sunnyside boys close out league action on Monday, May 5, at the Wenatchee Country Club.