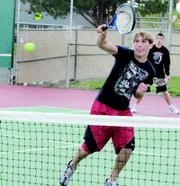 The visiting Southridge Suns blanked the Sunnyside High School boys and girls tennis teams yesterday, Thursday, by identical 7-0 scores.
All seven matches in both boys and girls competition were won in straight sets by Southridge.
The closest the boys came to making a dent in the Sun juggernaut was in second doubles, where Sunnyside's Mike Martin and Joey Zjilstra pushed their Southridge opponents before losing 7-5 in the first set. The duo lost, the second 6-1. The Grizzlies next best shot was in third doubles, where the Sunnyside team of Spencer Jaquish and Anthony Aguilar lost the second set 6-4 after dropping the first 6-1.
"This match was a let down for us in a lot of areas," Coach Troy Whittle said of the boys team loss. "We are struggling with confidence. We are competitive early, often going up 1-0, or 2-1. Then when the other team goes up 2-1, or 3-2 we are having trouble regrouping mentally."
In girls competition, Sunnyside's best hope for winning a set came in third singles, when Hannah Marro lost the first set 7-5 before falling 6-0 in the second.
The Lady Grizzlies' overall strongest match of the day was in third singles, where Sunnyside's Jamie Zijlstra lost 6-3, 6-4 in a hard fought battle.
"Southridge was tough, especially at doubles," noted Whittle. "They took the net and dictated the tempo of the match, putting our players on the defensive. Net play is a priority for us in our practices this next week."
Sunnyside has a make-up match today, Friday, at Eastmont.