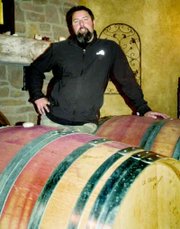 PROSSER - Seven years ago, Michael Haddox had a vision: creating a Tuscan-style, old world themed winery where up to seven labels could create their own wines, each with their own tasting room and barrel storage, but sharing a tank room, lab and conference room. Three years ago, he quit his job to pursue building The Winemaker's Loft.
"Three years ago this month is when I quit my job to pursue this," he says from his office inside the loft. "Before that, it was probably four years I'd been brewing on it."
Now, The Winemaker's Loft in Prosser has been open for nine months, Haddox has received rave reviews on his wines and he's already starting to outgrow the business.
But it hasn't been without a few trials in life.
A month after he quit his job to pursue making the loft a reality, his wife Dana was diagnosed with cancer and eventually told she had only six months, at best, to live.
They refused to accept that, and Mike began searching for clinical trial programs suited for Dana's situation. Eventually, he found one in Texas.
He and Dana flew to Texas. "She responded great to it, at first," he said.
Mike flew back home and continued to work on getting the loft off the ground.
Then the phone call came, saying Dana wasn't doing well. Mike immediately left for Texas, Dana contracted pneumonia and passed away within 24 hours.
For six months, he says, "My world was upside down."
Haddox had already lined up tenants for The Winemaker's Loft. But the project had been put on hold from his wife's situation. When he did hit the ground running again, he had to search for tenants all over again.
He found them. Currently there are five tenants in the loft, which can house up to seven.
And today, Haddox is growing leaps and bounds every time he turns around.
"I've just gotten so much momentum," he says.
In March, the Seattle Times declared the 2005 Loft Red Table Wine the wine of the week. Wine Enthusiast Magazine has given the wine a special nod too, scoring it at a 90 and placing it on what it calls "top shelf" for a best buy. It'll be featured in the July magazine, which hits the stands come June 1.
Haddox has another label, too, Michael Florentino Cellars, with Florentino being Dana's family name.
In the meantime, he has eight clients he makes wine for; for one client he makes two barrels, for another client he makes 65.
When he built all of the studios, they were designed with the goal of making 11,000 cases of wine. "Last year, we did 27,000 cases," he says.
Already, he's got blueprints to build another production facility just south of The Winemaker's Loft. "I need it now. It's amazing."
He's learned some costly mistakes along the way. His 2005 white wines were so bad, he says, he literally had to dump them down the drain. "You don't want to put a bad product out. I even had to get a permit to dump it."
A lot's changed since he first quit his job to pursue his dream three years ago.
This weekend, he's releasing his 2007 whites, and they're by far better than the mishap in 2005. Among the new releases are house wines Chardonnay Pinot-Gris and the Lulu Rose, named fondly after his four-month-old daughter with fiancee Khia Streate.
For spring barrel weekend this Friday, Saturday and Sunday, visitors will sample the Michael Florentino Cellars 2007 Touriga and 2007 Tempranillo straight from the barrel.
Once the tasting rooms close at 6 p.m. this Friday and Saturday nights, the doors open again for a wine bar featuring musical entertainment from bands in the Pacific Northwest. Come June, Haddox will feature the wine bar and musical entertainment every Saturday night through the summer.
In the meantime, he's brewing over possibly creating more winemaker's lofts at other locations.
After all, he says, "The sky's the limit."
&nbsp