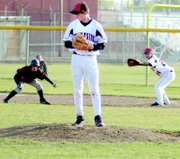 Everything that could possibly go right for the 3A Sunnyside High School baseball team did in a 12-1 thumping of 4A Davis this past Friday.
Grizzly starting pitcher Tristan Abbott got all the run support he needed in the home half of the second inning, when Sunnyside batted around for 11 runs.
"We did to them (the Pirates) what other teams have been doing to us," Sunnyside Coach Terry Shines said of the marathon second. "When we got a runner on base, we put the ball in play. We bunted the ball well. Playing small ball worked out well for us."
That was evident in the second frame, as Sunnyside sandwiched four hits around four free passes issued by Pirate pitching to get the big inning going.
Sunnyside's Brenen Swofford, Diego Burgeuno and Gibby Briones each delivered clutch two-run hits during the pivotal second stanza. Small ball was indeed in play, as Hector Mendez reached first on a suicide squeeze bunt to bring in one run.
The big inning has usually worked against Sunnyside this season, as opponents have jumped on Grizzly errors or pitching control problems to put games out of reach.
In Friday's non-league contest the big inning belonged to Sunnyside alone, as Abbott scattered five hits over five innings. The lone Pirate run came in the fifth and final inning in a contest shortened due to the 10-run rule.
"I call him lion heart," Shines said of Abbott. "Some kids hand you the ball when you go to bring in a new pitcher. This kid, you have to pry it out of his hand."
Abbott went the distance despite getting hit in the chest with a ball a few weeks ago and getting a finger spiked on his pitching hand during a recent practice.
That's not to say Davis didn't have chances.
The Pirates had two on with no outs in the fourth and had the bases loaded with no outs in the third, yet Abbott, bum finger and all, managed to pitch out of the jams.
While the junior stayed in control on the mound, Sunnyside's defense backed him up with an errorless game.
Then there was that Grizzly offense, pounding out 10 hits in five innings. Briones, Burgueno, Tim Taylor and Jasper Rubalcava each had two hits for the game.
"We were more aggressive at the plate," Shines noted. "In the second inning we hit the ball early in the count. We had eight hitters that did something well on the first pitch. We attacked the ball much better."
The comfortable win couldn't have come at a better time for Sunnyside (2-6, 4-12) which was able to rest its usual starting pitchers, Frankie Salcedo and Gibby Briones.
"This was a non-league game, and our other pitchers are sore," Shines said of the breather Abbott provided in his five innings of work.
Shines also hopes the convincing team victory is a sign of things to come for a Grizzly team clinging to the Columbia Basin League's sixth and final District playoff berth.
"Hopefully we're starting to peak," he said, noting Sunnyside ideally needs to win two of its final four regular season games to comfortably wrap up a playoff spot. That would be no small feat, coming off a winless 2007 campaign.
The Grizzlies resume their stretch run to the postseason with a doubleheader at Southridge tomorrow, April 29.