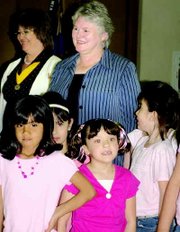 MABTON - Local VFW and Ladies Auxiliary members gathered in Mabton this past Sunday to officially welcome National VFW Ladies Auxiliary President Virginia Carman.
Carman offered words of encouragement for area VFW posts and members for programs and support currently offered to troops and their families.
She mentioned two programs at the national level that currently provide relief to troops.
One is "Snowball Express," a camp in California for children who've lost a parent to war.
"It's a dream week for children who've lost family to service (to the country)," Carman said. "It gives (kids) the opportunity to meet other kids in their situation and helps with the grieving process."
Once kids attend the camp, Carman said, "They realize then that their daddy really was a hero."
To date, Carman said $110,000 has been collected from VFW posts across the nation to support the program. Posts that donate a minimum of $100 to the camp will receive a certificate of national recognition for the donation.
She also mentioned the cancer aid program, which, on the national level has raised over $2 million so far this year.
Carman said that it's the support shown from each and every post throughout the country that troops and their families will remember, even if they don't immediately become a member of the organization.
"They will know and they will remember the VFW and Ladies Auxiliary was there for them," Carman said.