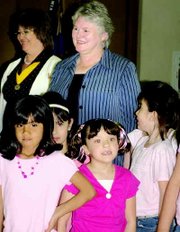 Ronald Merrill, Sr., 69, of Sunnyside, went home to his heavenly Father on Friday, April 25, 2008, with his family at his side.
He was born July 1, 1938 in Los Angeles, Calif. to Jack and Mary Ellen (Curry) Merrill. He graduated from high school in California. He served nine years in the Army National Guard.
On Sept. 27, 1969, he married Linda Durbin, in Las Vegas, Nev. They made their home in Venice, Calif. In 1974, they moved to Washington where he worked as a self-employed painting contractor.
He enjoyed snowmobiling, motorcycles, boating, camping and also enjoyed animals.
He loved being with his grandchildren and treasured life and his family. He enjoyed spending time with his friends and always joined the guys for morning coffee. He especially enjoyed his "buds", Bob Mattingley and Josh and Kenny Nelson.
He is survived by his loving wife, Linda of Sunnyside; two sons, Ronald Lee Merrill, Jr. (Sally) of Kent and William Robert Merrill of Sunnyside; two grandchildren, Brandy Lee and Ryan Stephen; two brothers, Bob Hardy of Illinois and Dennis Hardy of Hollywood, Calif.; brothers-in-law and sisters-in-law, Debbie and Dennis Clark of Selah, Judy and Lyle Sylling of Zillah, and Bob and Karen Zink of Union Gap; his mother-in-law, Flora Downing (Jim) of Yakima; and numerous nephews and nieces.
Memorial services will be held Wednesday, April 30, 2008, at 3 p.m. at Calvary Baptist Church in Sunnyside.
In lieu of flowers, donations may be made to his family to help with medical and final expenses.
Condolences may be sent to www.valleyhillsfh.com.
Valley Hills Funeral Home, Sunnyside, is in charge of arrangements.
More like this story