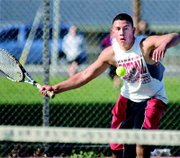 GRANDVIEW - The Grandview Greyhound boys and girls tennis teams fell to Toppenish yesterday afternoon with identical outcomes of 4-1.
In No. 1 singles, Grandview's Jose Madrigal lost to Lucas Reynolds 7-5, 4-6, 6-4.
In No. 2 singles, Ryan Rodriguez fell to Toppenish's Jakee Stahi 6-4, 6-0.
The first doubles team of Rodrigo Fajardo and Edgar Candido defeated Amman Stancliffe and Junior Kang of Toppenish 6-3, 6-0.
In No. 2 doubles, Grandview's Gabe Contreras and Garrett Walker lost to Emilio Polina and Francisco Carriedo 6-2, 7-6(3).
In third doubles, Roli Solis and Justin Moreno of Grandview lost to Edgar Sanchez and Nathan Mesplie in a super tiebreaker 6-1, 4-6, 10-8.
In the girls match, No. 1 singles player Rosi Godinez lost to Toppenish's Cintia Gill 6-0, 6-4.
In No. 2 singles, Grandview's Mariah Coronado lost to Leslie Avalos 6-1, 6-0.
The first doubles team of Christine Penwell and Sydney Mottice defeated Toppenish's Courtney Shank and Karla Hernandez 6-4, 6-1.
In No. 2 doubles, Erica Gonzalez and Tania Valdez of Grandview lost to Candy Villegas and Kamien Sanchez 6-2, 6-2.
In No. 3 doubles, Grandview's Trina Collins and Gabriella Suave lost to Mayra Mendoza and Natasha Pannell 6-1, 6-2.