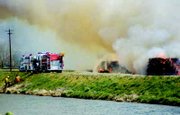 OUTLOOK - Firefighters from Yakima County Fire District No. 5 were called to a vehicle fire in the 5100 block of Dekker Road at noon yesterday.
Yakima County Fire District No. 5 Captain Tony Castillo said when crews arrived on scene four to five haystacks were fully involved.
A feed truck had malfunctioned and started on fire. The driver pulled over to try to extinguish the blaze with a fire extinguisher. Due to high winds the fire spread from the truck to nearby haystacks.
Approximately 40 firefighters from Yakima County Fire District No. 5, Sunnyside, Toppenish, West Valley, East Valley, Selah, Union Gap and Gleed battled the blaze for five hours before the fire was brought under control.
Castillo didn't have a firm estimate on the monetary damage caused by the fire but said at least 700 one-ton bales, valued at approximately $150 each, were destroyed.