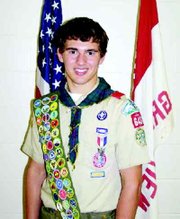 GRANDVIEW - David M. Tobin of Grandview Troop 643 has been named the American Legion's Eagle Scout of the Year for the state of Washington.
Tobin, a junior at Ki-Be High School, has been a member of the Grandview troop for five years. His father, David Tobin, is a member of the American Legion Fred E. Hayes post in Grandview, which made him eligible for the honor.
Tobin will receive his award and a scholarship of $1,000 at a convention in Vancouver this summer.
According to Jim Davidson of the Grandview American Legion post, Tobin will now be considered for a national scholarship of $10,000.
Davidson said that Tobin's achievements include 47 merit badges and two Eagle Palms.
Davidson added that Tobin has received numerous other awards from the Boy Scouts of America.
In addition to logging in 152 nights of camping, 91 miles of hiking and 96 hours of community service projects excluding his Eagle Scout project, he has served on summer camp staff and was elected to the Order of the Arrow, a national honor camping society.
Tobin built a flag pole honoring local veterans at the Kiona-Benton Middle School for his Eagle Scout project.
"This award and scholarship is very competitive and difficult to achieve," Davidson said.
Tobin's troop is sponsored by Bethany Presbyterian Church in Grandview.