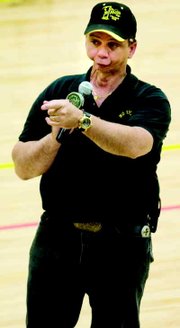 Rick Bender never thought about the possibility of cancer when he was younger.
The advertisements said it all.
"Take a pinch instead of a puff," he recalled.
Back in the 70s they still had tobacco commercials on television, he told sixth-graders at Sierra Vista Middle School yesterday.
Bender was at the school to talk about the dangers of tobacco, especially chewing tobacco, and to tell his story.
Bender told the students it was chewing tobacco commercials featuring Walt Garrison and Earl Campbell that got him into it.
"You might not have heard of those guys but they were as popular as Tyrell Owens or Peyton Manning are today," he said.
He said three factors contribute to youth chewing tobacco. Peer pressure, tobacco companies and baseball.
After 14 years of chewing tobacco Bender noticed one day he had a small sore on his tongue. He tried to ignore it, he said, but soon that became impossible.
After going to a doctor and having a biopsy done, he got the bad news that he had a very aggressive form of cancer that directly resulted from his tobacco use.
The first operation took part of his tongue as doctors cut and scraped the cancer away. His lymph nodes on the right side of his neck were also taken.
After four surgeries, Bender had one-third of his tongue taken and his right side jaw bone. Nerves damaged during the process now limit the mobility of his right arm.
"Learn from my mistakes," he said.
Of the type of cancer Bender had he said he only knows of 11 people in the U.S. that has survived when they got the disease under 30.
He encouraged the students to talk to people they know who use tobacco and persuade them to quit. He knows it's hard. Even after all Bender went through he said he is still addicted to tobacco and will always be.
"I still like the smell of it," he said. "Sometimes I can almost taste it."