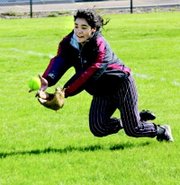 Oh, what might have been. For four of the five innings the Sunnyside High School fastpitch softball team played Southridge to a 1-1 draw.
Unfortunately for Sunnyside, the third inning of the 13-1 loss proved to be the ladies undoing.
The Suns had a 1-0 lead heading into the third inning of play in the opening game of a doubleheader. After posting three runs to take a 4-0 lead, Southridge found themselves with two outs and the bases loaded.
Sunnyside pitcher Erica Sabedra got the Southridge player to ground to shortstop and what should have been an inning-ending out turned into an error. That error turned into another, then another, and then the Suns decided to play the long ball.
After the damage had been done the Suns turned what should have been a 4-0 lead into a 13-1 blowout.
"Bottom line, we gave up some crucial plays," Sunnyside Coach Ralph Mendoza said. "Southridge had some great hits on their behalf, but we gave them more outs than we should have."
Sabedra pitched all five innings, giving up 12 hits, eight of which came in the ill-fated third inning, and seven walks.
Sunnyside's Shana Zamarron pounded out both of the Lady Grizzlies' hits and scored the only run of the game for Sunnyside in the fifth inning. She was brought home by a Kassie Luther RBI.
In the nightcap of Tuesday's doubleheader the Suns walked away with a 13-2 win.
Mendoza, looking ahead to next season, brought up JV workhorse Maleesha Maltos to pitch the game for the Grizzlies. The young player gave up 12 hits and five walks.
After falling behind 4-0 after one inning, Sunnyside held Southridge scoreless in the top of the second and then fought back to score a run in the bottom of frame.
After posting two outs to start the inning, Sunnyside's Sam Palomarez singled to start the Grizzly rally. Ruby Herrera then singled, which moved Palomarez to second base. She came home when Zamarron singled.
Ahead 4-1, Southridge scored five runs in the third to jump to a 9-1 lead. After four more runs in the fifth, the Grizzlies trailed 13-1.
After getting an out, the Grizzlies got on base with a Celeste Salinas single. Salinas moved to second on a Luther groundout and came home when Sam Perales singled. One out later the game was over.
Perales and Zamarron were both 1-for-2 with an RBI. Melissa Amaro, Palomarez, Herrera and Salinas all were 1-for-2 as well.
"Overall the girls battled back and got that run in the last inning," Mendoza said. "They just couldn't overcome that lead. We didn't get the hits at the crucial times."
Sunnyside (0-10, 2-15) will finish its season tomorrow (Thursday), when the Grizzlies travel to East Wenatchee for a 4 p.m. doubleheader with Eastmont.