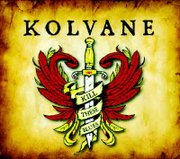 The most recent release from Portland's Kolvane is out and like the title suggests, Kolvane seems to put distance between himself and the blues.
Kill These Blues takes a different approach from Kolvane's earlier efforts with the Rose City Kings, instead, continuing in the direction of his 2006 EP They Called Me Evil.
He hasn't completely left the blues but on this album Kolvane and his bandmates explore country, gospel, funk and 70's stadium rock-n-roll while keeping their blues roots close by.
Backed by Steve Kerin on keyboards and percussion, Thom Sullivan on drums and The Chris Issak Band's Hershel Yatovitz on bass, Kolvane gets things rolling with Dying On The Vine, with a sweet guitar lick that brings out his southern rock influences.
The musicians slide easily between songs such as Under The Honey Moon, a gospel inspired tune that showcases Kolvane's voice, to Backslide, a steamy, sweaty song that should be on every strip club's jukebox, and will hopefully be the first song played at Sunnyside's newest gentlemen's club come next winter.
The title track to Kolvane's new album, Kill These Blues, is such a cool song it's kind of hard to describe. It definitely belongs in the 60's and maybe that's why I like it so much. I hope if Kolvane ever does a video for the song he uses old footage from the Ed Sullivan Show, it would be perfect.
The bluesiest song on the album, Cool Baby, is receiving air play for the band. Cards, the only song not written by Kolvane on the album, is pure funk that morphs into the jam sound of Phish.
It's just about impossible to not like this CD. The 12 songs are tight, crisp and enjoyable. This album should show some commercial success for Kolvane.
But take note, if you listen to this album you should do so at your own risk and please ask your doctor for some anti-biotics because these sounds are infectious.