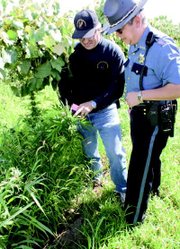 MABTON - Overwatering and overgrown weeds were tell-tale signs that more than grapes were growing in a Mabton area vineyard. The result was a major marijuana haul this morning by the LEAD Task Force.
The drug bust started at around 3 a.m. today, this morning at 621 Phillips Road, about three miles from Mabton, and the investigation was continuing onsite through this afternoon.
The marijuana was growing in a 30-acre vineyard and intermingled among grapes and tall weeds. Task Force Commander Rick Beghtol estimates today's haul will net about 20,000 plants.
Beside plants in the ground, a warehouse on the property was full of harvested marijuana hung for drying. Beghtol said the plants in the warehouse alone are valued at well more than $2 million.
An overall value of the pot seized in today's raid is unavailable as officers were still locating marijuana plants at the site.
Beghtol said today's drug bust and two other marijuana hauls in the Lower Valley in the past three weeks are the result of a two-year investigation and educating law enforcement officials about standard farming methods.
"We became more familiar with more normal agricultural practices and started seeing commonalities among the marijuana cultivation techniques," he said.
For the Phillips Road pot plantation, that meant trimming back grapes to get more sun for the marijuana and watering more than is usual for a typical vineyard.
The LEAD Task Force had a contingent of 22 law enforcement officials at a house near the vineyard this morning, including members from the Sunnyside SWAT team, and surprised the alleged marijuana growers.
Beghtol said one man taken into custody, Jose Navarro Larios, tried to escape by breaking through a window. He was taken to Sunnyside Community Hospital with lacerations to his arms and throat from the broken glass. Two other unidentified suspects were also taken into custody. Those two and Larios are currently being held in the Sunnyside jail.
Two more suspects fled into a nearby corn field and are still being sought by the LEAD Task Force as of press time.
Though operated by different people, the three local marijuana operations seized in the past three weeks were probably connected to the same organization or group funding the pot farms.
Beghtol said today's find on Phillips Road was some of the highest quality marijuana he's come across in his 20 years of law enforcement in Yakima County. "It's extraordinary," he said, noting it's likely those involved had some training in growing pot.
In news from a previous marijuana seizure, Beghtol identified two men arrested in a July 8 pot bust on Midvale Road as Macario Carranza-Carrasco, 22, and Gerardo Ceja-Dias, 22. Both men lived at the Midvale Road site.