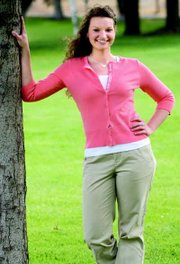 Rebekah Paulakis has lived in Sunnyside all of her life and it's a fond appreciation for her community that's compelling her to run for the Miss Sunnyside title this coming September.
"I just have a desire to give back, to help make change," says Paulakis.
Paulakis wants to use the Miss Sunnyside title as a vehicle to raise awareness about gang activity, local drop-out rates and drug and alcohol use. She wants to do it as much for the community as she does for her peers.
There was no hemming and hawing when it came time to vie for the title. As the application time approached, Paulakis said her attitude has been, "I've got to do this now!"
Paulakis has been attending Miss Sunnyside Pageants for just about as long as she can remember.
"I usually go to the pageant every year. It's just something I've always done," she said.
Her aunt, Denise (Flodine) Hursh, was once Miss Sunnyside and Paulakis said she's been extremely supportive of her niece's run at the title.
When she's not busy dancing, both at home and at Meredith School of Dance in Buena, Paulakis can likely be found in the kitchen, cooking up recipes, especially ones that honor her Greek heritage.
With the help of her mom, Paulakis likes to make dolmas and tzatziki. Dolmas is rice, meat and onions wrapped in grape leaves, and tzatziki is a cucumber yogurt dip. She also likes to make spinakota, a cheese and spinach blend wrapped in a thin pastry-style crust.
Overall she simply loves cooking, especially gourmet. She said if she could cook on-stage in the talent portion of the program, "...that'd be awesome."
Instead, she'll settle for dancing, which she's been doing since she was six years old. "It just seems natural that I'll start moving around when I hear a song with a good beat."
During the talent portion of the pageant, she'll be dancing a jazz-type dance to "Boogie Wonderland" by Earth, Wind and Fire.
Should she be selected to serve as Miss Sunnyside, Paulakis plans to partner with Transformation Sunnyside.
"They're a group that focuses on transforming our community through relationships and prayer," she explained.
She said she'd heard about Transformation Sunnyside through the grapevine. "It piqued my interest. I just wanted to get involved and help them in any way I could."
Her goal is to develop youth programs to teach the dangers of gangs, drugs and alcohol. She said Transformation Sunnyside is also trying to create an "Adopt-a-Cop" program and she wants to be involved in that, too.
She said the goal of the program would be to get the community involved in showing appreciation for police and what they do for the city.
Once she graduates from high school, Paulakis wants to move to Seattle, get into med school and graduate as a pediatric asthma specialist. It's something she understands well, as she suffers from the disease. "I'd be able to understand what my patients are going through."
Paulakis is the daughter of Nick and Jeri Paulakis, and little sister to Hannah, 19.
Her sponsors for the Miss Sunnyside Pageant are Napa Valley Auto Parts, Catalina's Hair Care, B7 Engineering and Columbia River Steel and Construction.