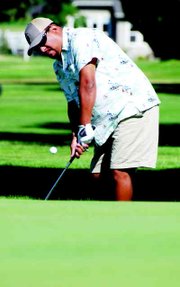 Winning by the narrowest of margins, Gary Hutchins and Louis Alcala bested an 18-team field at this year's Triple Threat Golf Tournament, staged this past Sunday at Sunnyside's Black Rock Creek Golf Course.
Hutchins and Alcala marched around the par-72 course with a five-under 67. That was one shot better than the three two-man teams who shot a 68 for runner-up honors.
As tradition dictates, the Triple Threat competition opened with six holes of best ball play. Hutchins and Alcala birdied holes three and four to finish that segment of the tourney two-under.
The second six holes of play was Chapman play. Again, the eventual winners went two-under, snaring birdies on holes eight and nine.
Finishing up the final six holes of play in a scramble format, normally where teams score the best, Hutchins and Alcala managed just one tweeter to end up one-under for that portion of the tourney. Still, it was enough for the duo to hang on and win by a single stroke over the three runners-up.
The second-place finishers, at 4-under-par 68, included Tony Villanueva/Joel Stebin, Josh Williams/Rodger Simmins and Miguel Puente/Juan Guerrero.
Villanueva/Stebin and Williams/Simmins made up the most ground in scramble play, each squad going three-under for that six-hole stretch. Puente/Guerrero was one-under in best ball, one-under in Chapman and two-under in scramble.
On the net side of the tourney (actual score minus handicap), there was a two-way tie between the teams of Paul Stonemetz/Todd Lenseigne and Jason Eberle/Kino Arambul.