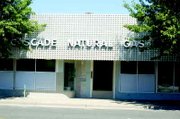 Cascade Natural Gas's call center near Fifth Street and Decatur Avenue in Sunnyside is in the midst of a spring cleaning of sorts, with changes inside and out.
Changes include stripping the exterior paint off of the call center building, estimated at over 50 years old, and this week work will begin applying a new stucco finish to most of the exterior.
Chris Rivas is the director of the call center here, which focuses on new natural gas clients, and she says the spruce up is part of a regional effort to upgrade the company's call centers.
The momentum started a year ago, she says, when Montana-Dakota Utilities acquired Cascade Natural Gas.
"They wanted to clean up the corporate image," Rivas smiled. "They wanted to make the building look better."
The stucco, she says, will be a big help in addressing the need for re-painting the building and dealing with graffiti.
Interior improvements already completed include bathroom renovations and painting.
A change that impacted both the outside and inside is that two months ago Cascade Natural Gas did away with a glass front door and large picture windows, vestiges from when the building was a car dealership.
Rivas explained that since the building is a call center only, with no walk-up business, the decision was made to build a secure side entrance for deliveries and employees.
Also, she said the utility company was concerned that the large windows provided too much of a glimpse inside the office from the sidewalk.
As a result, the windows were shortened to provide light, while also providing security for employees and equipment.
There's another change in the works, replacing the Cascade Natural Gas logo outside with a similar one that reflects the company is a subsidiary of Montana-Dakota Utilities.