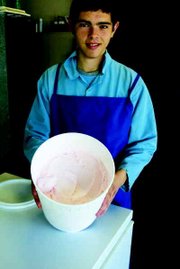 For nearly 20 years Jose Mendoza and Jesus Ramos have been churning out frozen fruit bars at their Sunnyside business.
Now, the owners of Paleteria La Norteña are expanding their business with a new seating area and three new products.
The new seating area is adjacent to the wholesale area of Paleteria La Norteña, located on North Avenue.
"We saw the necessity of adding the seating area," Mendoza said. "People would come inside and not be able to fit. They would either eat their ice cream inside or on the outside before going to their car. We did this mostly so customers can have a place to eat."
Construction on the project began last November and Ramos and Mendoza did most of the work themselves or with the help of family. Only the electrical wiring and the stucco was completed by outside help.
The new seating area will accommodate 50 persons and Mendoza said he is hoping the area will be ready by Aug. 16. Because of the added business the seating area is expected to bring in, two more employees are expected to be hired.
Paletas, frozen fruit bars, will be sold a little differently in the retail area. Mendoza said the fruit bars will be creamier and filled with more fruit. These paletas will be different from those sold in the wholesale area of the business, where the original 21 flavors of paletas will be sold.
Also new to the new seating-retail area will be raspados. These are a type of sno-cone, with shaved ice with flavored syrup. Mendoza said he expects to have at least six flavors.
Flavored water will also be sold in the new retail area with four or five flavors on tap.
Ramos and Mendoza will also offer homemade ice cream with waffle cones in the retail area. The homemade ice cream is a new product for the two cousins and the first batch of ice cream was made last Sunday.
The ice cream will be made once a week. Mendoza said three gallons of ice cream can be made in about 45 minutes. Right now 12 flavors are planned.
Ramos and Mendoza are both originally from Mexico and worked in dairies for several years in the Sunnyside area before opening Paleteria La Norteña in 1989.
Neither had any experience with making ice cream treats but came up with the idea one hot summer day when they couldn't find any place to get good ice cream.
One of Ramos' aunts even came up from California one time with some ice cream treats made down there.
"We saw that it went very fast," he added.
That did it and the two cousins borrowed money from family and a bank and started their ice cream business.
Once the new retail area is open the hours of operation will be from 10 a.m. to 9 p.m. seven days a week. The hours will change during the winter season.