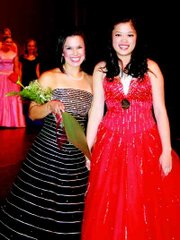 PULLMAN - For the first time in 10 years, Grandview's Junior Miss took home two honors at State competition.
Cheyen Schenck received the 2008 Spirit Award and an ensuing $300 scholarship, as well as a $200 scholarship for her performance during the self expression portion of the state program held in Pullman this past weekend.
"Nobody has won anything since 1997 or '98, so she did really well," said Grandview Junior Miss co-chairwoman Lucy Dykstra.
She added, "The overall spirit award is voted on by the girls, so for her to get it is a real honor."
Schenck agreed. "It was the most special one I think," she said, adding that she was particularly excited when they called her name.
Schenck competed against 20 girls for the title of Washington Junior Miss. Leavenworth Junior Miss Polina Carlson was eventually named Washington Junior Miss for 2008-09.
Schenck arrived in Pullman on July 28 and faced a grueling schedule leading up to Saturday night's competition.
"We're very proud of her. It's a long week and they get very little sleep," Dykstra said.
Schenck added, "It was really hectic because we were there (rehearsing) from 7:30 a.m. to 10 at night everyday."
Particularly grueling was learning the physical fitness routine. "All of us were hurting by the end," Schenck said.
On Saturday, Schenck and her fellow competitors actually went through the routine twice, practicing a full dress rehearsal before the program.
One of the highlights was teaching children from the Pullman community a class on how to "Be Your Best Self," one of the national themes for Junior Miss.
Another highlight was receiving messages from home, she said. While in Pullman, Schenck could not use email or talk to family on the phone, she could only receive letters and cards from home.
"That was amazing," she said. "I probably got 50 to 60 cards from people in the community.
More like this story