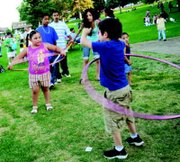 Last night (Monday) the community turned out in droves at Sunnyside's Central Park for the Lower Yakima Valley's National Night Out Against Crime kick-off party.
Those in attendance were provided information at a number of booths, including those operated by the Washington State University Tri-Cities campus, Columbia River Bank, Lower Valley Crisis and Support Services, Barrios Unidos and Fred Hutchinson Cancer Center.
Faces were painted, children played in the sand, Sunnyside police officers and Miss Sunnyside candidates were drenched in a dunking tank for the Special Olympics, and Charro horses danced to the sound of Perla Azteca. The bounce rooms were full, as was the Sunnyside swimming pool, and everyone was provided hot dogs and a number of treats at the party.
Central Park was "the place to be" last night, providing food, fun and entertainment for the whole community...all in the name of crime prevention.
Tonight (Tuesday) Sunnyside neighborhoods will feature a number of block parties. Each party will feature more fun, food and entertainment for all who attend.